Farr Utility Terrain Vehicle (UTV)
We are pleased to be able to offer our customers a range of FARR UK UTV / Utility Terrain Vehicles. Farr UK is one of the largest independent all terrain vehicles suppliers in the UK

Our selection of UTV's are perfect for the farming and agricultrual community. Offering a perfect transport and work vehicle across the most difficult terraines
FARR LH400UTV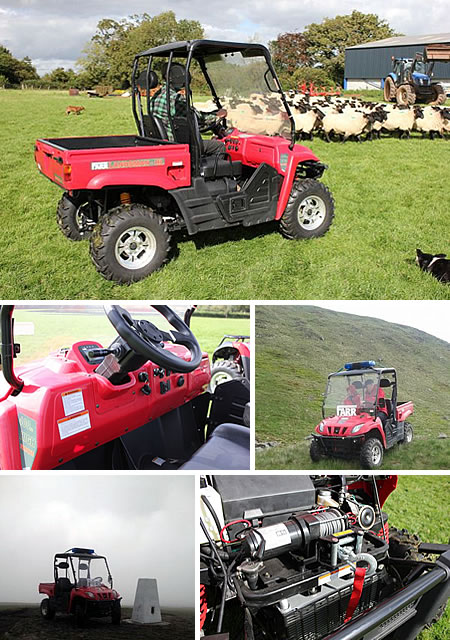 Like every FARR, the standard specification of the FARR LH400UTV leaves other manufacturers firmly in the shade.

NO other manufacturer gives you so much as a standard package.

At FARR we don't believe in charging extra for essential accessories. Our standard equipment includes; full roof and windshield, manual tipping load area, tow bar, digital driver information display, under seat storage, electric winch with remote, selectable two and four wheel drive, 12 volt power socket, solid side protection doors, fully integrated road legal kit, heavy duty mud gear tyres, heavy duty rear shocks, locking glove box this list goes on.

Featuring a powerful and efficient 28hp liquid cooled four-stroke engine together with four wheel fully independent suspension; the FARR LH400UTV delivers power, performance and comfort when you need it most.

Proven off road technology is built into every FARR product ensuring when the going gets tough, so does your FARR.

Power from the engine is delivered to the ground via our silky smooth CVT automatic transmission, that's always in the right gear regardless of the terrain you are on. When you need to stop, FARR's four wheel disc brakes bring everything to rest with ease and when parking up, a robust shaft based disc brake ensures your machine will stay exactly where you want it.


• 28hp liquid cooled four stroke
• Dual high and low transmission with reverse
• Fully integrated road legal kit
• Roof, screen, tow hitch
• Alloy wheels as standard
• Under seat storage compartment
• Electric Winch
• 12v accessory
FARR HS700UTV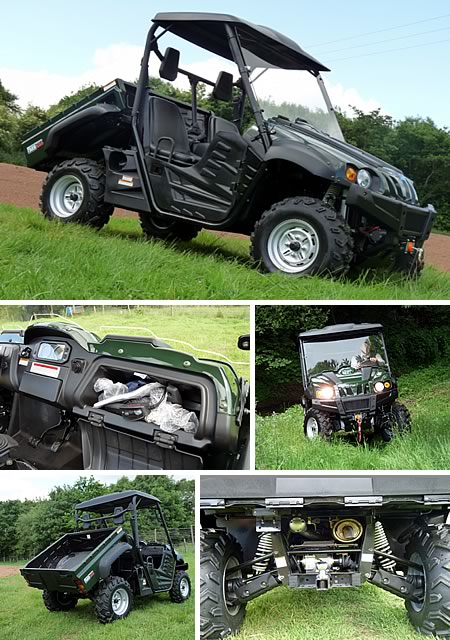 The automotive layout of this machine makes it the perfect partner for users spending extended periods in the cab tending livestock, managing shooting estates or those running small holdings, who rely on a workhorse to carry out those essential daily chores.

The selectable high and low ranges, two and four wheel drive with diff lock take on the steepest and toughest of gradients ensuring this machine takes you beyond your expectations.

Fully independent suspension gives the machine excellent wheel articulation and provides a smooth and satisfying drive regardless of the conditions. The tough all round disc brakes ensure your stopping distances are dramatically reduced keeping you in total control of your machine.

The clear LCD driver information centre gives you the lowdown on your speed, revs, fuel and tells you clearly when selecting different gear options. The display also shows your status when using the road legal kit. A large high capacity tipping rear load area ensures you have plenty of space for carrying feed and tools to their final destination.

All this coupled with FARR's standard specification of a 2500 LBS winch, full roof and body line windshield make the FARR 700UTV EFI unbeatable on all levels.


• 2 & 4 wheel drive with diff lock
• Automotive style hand brake
• High & low range gear box with park
• CVT transmission with full engine braking and shaft drive
• 686 cc water cooled engine
• Front & rear ventilated disc brakes
• Automotive style road legal kit
• Electric winch with remote control
• Fully independent suspension
• 29 Litre fuel tank
• Side doors
• Windscreen
• Roof
FARR HS800UTV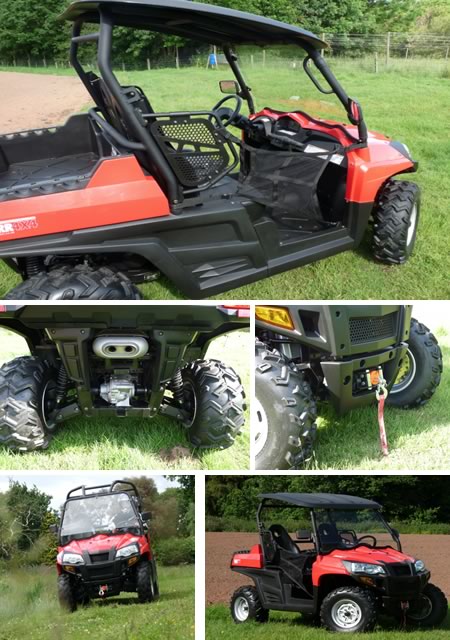 THE FARR 800 EFI SPORT UTV
BREATHTAKING PERFORMANCE AT A BREATHTAKING PRICE

The New FARR 800 EFI sport is as we say, breathtaking.

This is a machine that promises to put a smile on your face every time you turn the key.

From the moment the 800cc twin cylinder EFI engine bursts into life, you instinctively know from the burbling exhaust tone your in for the ride of your life.

For an unbelievable price the New 800 Sport brings you exceptional performance, build quality and design that other manufactures would easily charge several thousand pounds more for.

Advanced suspension and braking systems help to keep everything under control when the machine is being operated to extract maximum performance. The smooth fully independent sports suspension coupled with sports anti roll bars ensure the machine maintains maximum stability in those long sweeping bends. The engine braking and disc brake systems ensure the machines stopping distances are dramatically reduced when the pressure is on.

If serious off roading, green lanes or trialing is more your cup of tea, then the FARR 800 delivers on all levels. High and low range gearing, electronically selectable two and four wheel drive will keep you moving through the toughest of conditions. For those

sticky moments, you can always rely on the 2500lbs winch, that's fitted as standard to get you out of trouble.

The standard fit roof and bodyline Perspex windshield help keep the worst of what Mother Nature can throw at you, but if you prefer to feel the wind in your hair, both roof and windshield can be removed within minutes.

For the comfort of the user the ergonomics of the cab have been carefully thought out.

From the comfort of your bucket sports seat all controls are within arm's reach.

The high quality LCD driver information screen displays all important vehicle functions so the user knows at all times what systems have been engaged.
• 2 & 4 wheel drive with diff lock
• Automotive style hand brake
• High & low range gear box with park
• CVT transmission with full engine braking and shaft drive
• Front & rear ventilated disc brakes
• Automotive style road legal Kit
• Electric Winch With remote control
• Fully independent suspension
• Windscreen
• Roof