Farr All Terrain Vehicles (ATV)
We are pleased to be able to offer our customers a range of FARR UK ATV / All Terrain Vehicles. Farr UK is one of the largest independent all terrain vehicles suppliers in the UK

Our selection of ATV's are perfect for the farming and agricultrual community. Offering a perfect transport and work vehicle across the most difficult terrains
FARR LH300ATV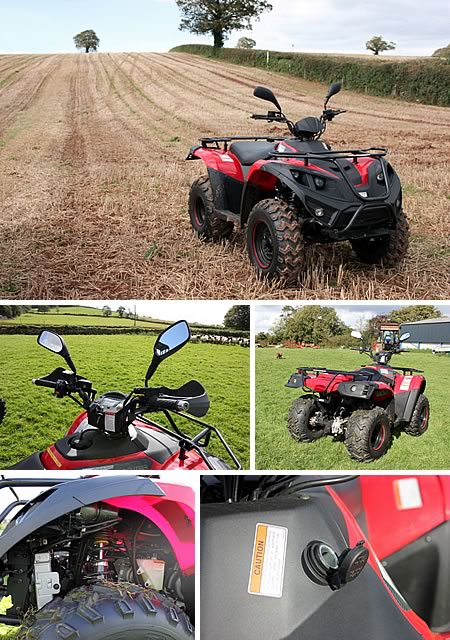 "Power and agility beautifully packaged"

The new 2013 FARR LH300 4X4 incorporates robust build quality with 21st century design, making it one of the most attractive and user friendly two wheel drive ATV's in its class.

When there's work to be done the new FARR LH300 4x4 steps up to the mark with impressive levels of torque and traction that may normally only be associated with machines of a larger stature.

This no-nonsense machine offers exceptional user comfort and feels equally at home in fields and wide open spaces as it does in the tight confines of the farm yard, and offers users one of the best turning circles in its class.

The FARR LH300 4x4 robust chassis, suspension and running gear are what gives the user excellent feedback about the terrain you are riding on, ensuring you feel fully connected to the machine and the environment around you.

Powered by a 275 cc single cylinder 4 stroke engine means there's plenty of power at hand and the fully automatic CVT transmission means changing gear is a thing of the past. Not only does this make the LH300 extremely easy to ride, it ensures the two combined put the power on the ground, exactly where and when you need it.

The 21st century styling is where practicality meets desirability. FARR's new panel design has brought an automotive feel of quality to the LH300 which is not only highly appealing but also extremely practical. A wide comfortable seat and ergonomic fingertip controls for lighting and the standard road legal kit make riding a pure pleasure, this coupled with clear and easy to read digital instrumentation keep you in constant check of your machine at all times.


• Liquid cooled four stroke engine
• Automatic CVT with high low and reverse
• Fully integrated road legal kit
• On command 2wd/4wd
• Fully independent suspension
• Halogen headlights
• Electric winch
• Handguards
• Tow hitch and alloy wheels
• 12v accessory

FARR LH400ATV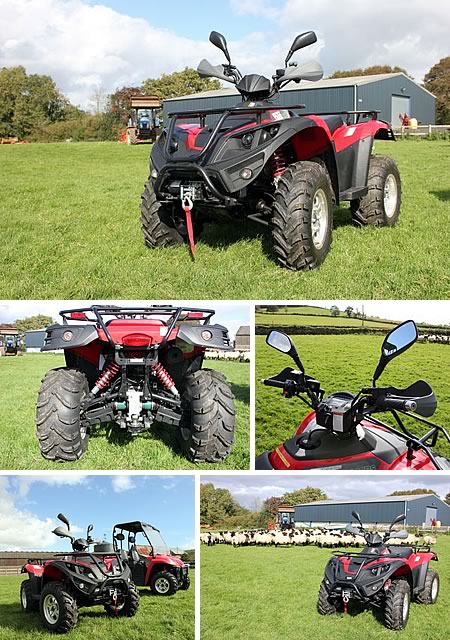 Stunning Design Without Compromise"

The new FARR LH400ATV represents the best design, quality and value available within the 400cc ATV market today.

New to the FARR range but proven on a global basis the new FARR LH400ATV brings together stunning design, technology and quality without compromise by being manufactured via a partnership with two of the world's leading manufacturers.

Powered by an incredibly smooth, 352 cc liquid cooled four-stroke engine producing an impressive 28hp that is mated to a fully automatic CVT transmission featuring high and low range the new FARR LH400ATV brings users a new level of power, performance and comfort at a truly incredible price.

From the ground up the 400ATV delivers on all levels. A robust chassis fitted with fully independent suspension, all round disc brakes, alloy wheels and a fully integratedelectric winch.

The body incorporates road legal lighting and the very latest dual sphere halogen headlights, switchable two and four wheel drive, high capacity front and rear racks and an easy to read digital driver information centre the specification of this machines leaves others in the shade.

The FARR LH400ATV is a true performer both off and on the road and promises users a whole experience in all terrain travel. See for yourself how good the new FARR LH400ATV really is by having a demo at your nearest FARR dealer.


• Liquid cooled four stroke engine
• Automatic CVT with high low and reverse
• Fully integrated road legal kit
• On command 2wd/4wd
• Fully independent suspension
• Halogen headlights
• Electric winch
• Handguards
• Tow hitch and alloy wheels
• 12v accessory

FARR HS500ATV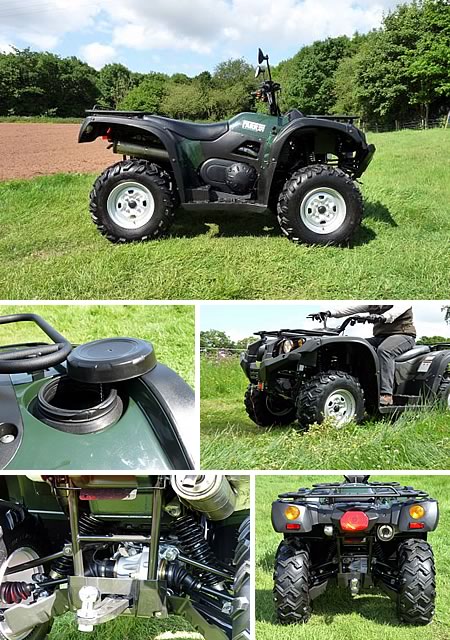 The 2013 FARR 500 ATV ticks all the boxes in the full size sector of our 2013 ATV line up. Quite simply put the 500 ATV offers everything you are looking for in an ATV at a truly amazing price.

Be it on the farm feeding cattle, repairing fences or inspecting valuable crops, or as a multi-function machine on a busy small holding, the FARR 500 is the dependable workhorse you need to carry out your work effectively.

With an ultra smooth constantly variable transmission (CVT) and full engine braking, You can go anywhere and do anything with confidence quickly and effectively. together with effective disc brakes, switchable two and four wheel drive and diff lock, you will feel totally in control of your FARR regardless of the terrain ahead.

Meaning the FARR 500's high quality independent suspension comes with fully adjustable shock absorbers for both load and rider comfort. This ensures the user can find the balance between comfort and load carrying capacity on both the front and rear loading racks.

The FARR 500 has been our "Best-Selling" ATV for many years now, so see for yourself why so many people trust a FARR 500ATV…… Be better, Buy FARR.


• Industry leading standard equipment
• Switchable 2 & 4 wheel drive With diff lock
• 1000 kg electric winch
• Tow hitch
• Fully integrated road legal kit
• 7 pin trailer socket
• Smooth & seamless CVT
• Transmission with high and low range
• Fully independent suspension
• Multi function LCD display
• Exceptional build
• Quality & value for money

FARR HS700ATV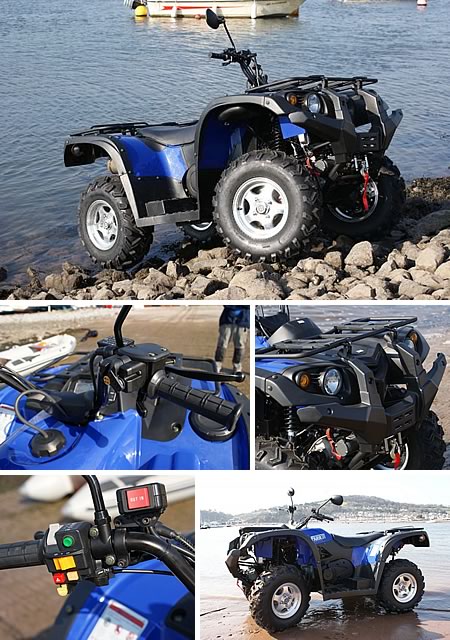 THE UNSTOPPABLE WORKHORSE

The FARR HS700 ATV really is unstoppable and packed with serious horsepower.

For serious ATV users, the FARR HS700 delivers on all levels.

The single cylinder five valve four stroke engine pushes out an impressive 33.5BHP, giving the FARR 700 sports like performance in a working utility package, ensuring you have the power to keep you working all day long.

Rider comfort is where this ATV also excels, fitted with long travel independent suspension, adjustable shock absorbers and a large comfortable padded seat the FARR 700 takes humps and bumps smoothly in its stride, making it ideal for users spending extended periods riding and working on the machine.

The FARR HS700 ATV is not only perfect for hardworking agriculture applications, but is also perfect for rescue and recovery services such as marine, coast guard and mountain rescue services as well as the forestry industry.

When fitted with the highly praised "Pro-Tracks" that are now available as an option, your FARR will take on terrain that no other make of ATV could cope with without sinking or getting stuck.

As with all FARR machines, the 700 comes standard with a 2500Lbs remote control winch for various applications and a fully integrated road legal kit to keep you seen when your machine is registered for highway use.
• 2 & 4 wheel drive with diff lock
• High & low range gear box
• CVT transmission with full engine braking and shaft drive
• 686 cc water cooled engine
• Front & rear ventilated disc brakes
• Fully integrated road legal kit
• Electric winch
• Fully independent front & rear suspension
• 17 Litre fuel tank
• Tow bar